"I never wanted a restaurant," declares Jody Williams, chef and owner of Buvette.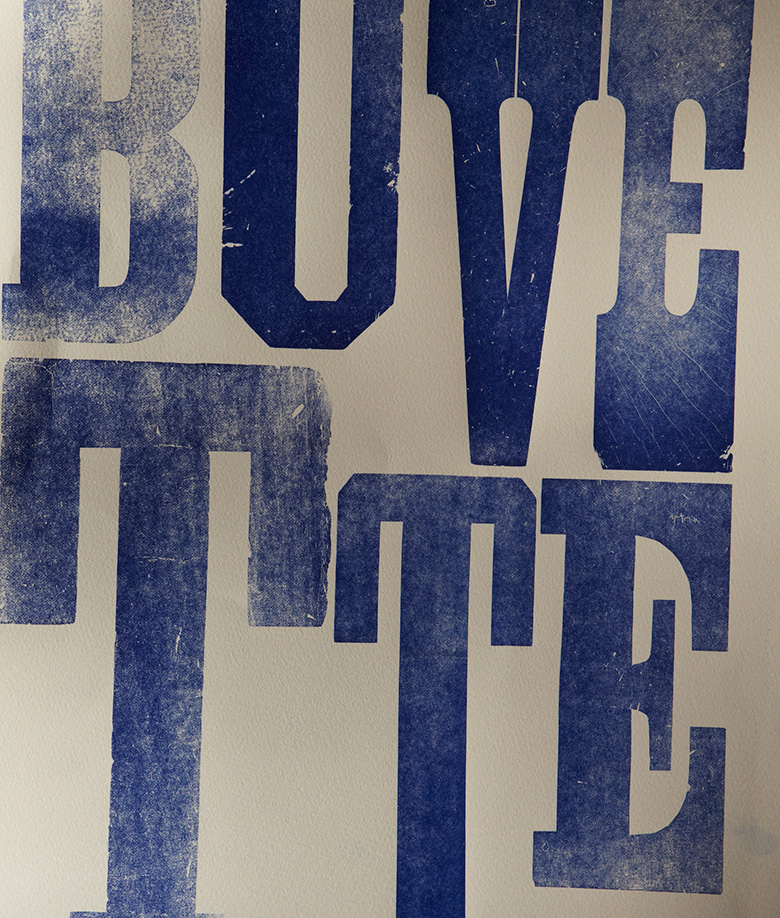 She's turned her attention to our surroundings, to the dining experience she's coined a gastrothèque. The charmingly snug space—wooden tables are squeezed convivially together, while aproned waiters breeze by with small plates—glows in the late afternoon sun. "With restaurants—particularly in New York–you have these formalities. I hate it—it's not good for food, and it's not good for creativity."
Williams's neologism feels justified. Both in New York City's West Village and in Paris, where she opened her second Buvette one year ago, her gastrothèques remains distinctive. A place abundant in good food and creativity, Buvette is a "collage" of Williams' experiences living abroad, which buck expectations of what a restaurant should be.
The desire to forge connections through hand-worked, artisanal touches is everywhere, like in Buvette's drink menu, which is filled with charming illustrations and engaging descriptions, such as how to make the perfect martini. (Created with designer Max Poglia's help, it's inspired by Williams' collection of vintage chapbooks and a desire to create a dialogue with her customer). That attitude persists at the bar, where a barman pours aperitifs just under our noses—Buvette's bar is intentionally six inches narrower than most, quite literally breaking down the distance between wait staff and patron. It's particularly palpable at brunch, where the tight seating and mutual delight in the food forges an unheard-of camaraderie among neighbors.
"Do you want a piece of our walnut-cranberry bread?" I ask. They beamed as I passed the basket.
It's during experiences like this that I remember one of Williams's comments: "I'm not sure I could point you to another place that feels just like this."
Buvette is a deeply personal place—a uniquely Jody Williams creation. Physically, there are signs of her everywhere. To scan the room is to see her assemblages of curios and bric-a-brac artfully arranged throughout the room: The wall of presidential paraphernalia is a tribute to her sister, who was born on Abraham Lincoln's birthday. Williams a self-admitted collector of antiques, counting Limoges porcelain plates, latte bowls, silver teapots, glass fruit presses, vintage toys, and old bee jars among her assemblies. "I'm a character that yearns for nostalgia all the time," she says. "I think that's why I try and create it in my places."
The space also channels Williams's experiences of eating and drinking throughout Europe. Whether squeezing in shoulder-to-shoulder for cicchetti ("small bites") in Venice or wiling an afternoon away at a vineria in Rome's Campo de' Fiori, these experiences shaped Buvette's philosophy of providing an outstanding gastronomic experience within a casual setting. "At Buvette, I look to do high and low, all in a comfortable, non-judgmental environment," Williams says. "I want you to be able to get a great bottle of Champagne on one night, and croque and a beer the next."
Her welcoming attitude—which, in Williams' words, "offers the guest a sense of freedom to come in"—permeates the space. There's a tangible sense of being "at home" here, which, unsurprisingly, Williams has an expression for: "It's what I call the 'kitchen table effect,'" she says. "When you sit here, you're almost at your kitchen table. You see the products around, and that's the point. So if you didn't have a menu, you'd know there's coffee, wine, prosciutto. We orient our guests; you feel that invitation to grab a plate, pour your water, share in the mise en place. Part of the success of something is stepping back and letting it be."
Williams's appreciation for an experience that feels blissfully off-hand does not mean her approach to her work is similarly casual: Williams works with tremendous intention and a shrewd attention to detail. Everything at Buvette has a place and a way: During our conversation she shares the proper method to install a toilet paper roll, opines on how to arrange glassware behind the bar, and points out why her collection of straw baskets is hung right there. When we arrived, she was up on a ladder, fussing with a light bulb. "I love to get into the minutiae of everything, from the fabric of the aprons to the menu's paper," she says. "I know what I want, so I tend to be very involved."
Williams has found a formula that not only works, but one she brought to France, a concept that's confounded many fellow chefs. With the success of the New York Buvette, plus some formative experiences and friendships along the way, Williams decided to expand to Paris's Pigalle neighborhood. Given Buvette is a French restaurant in New York, the decision seemed both logical and risky—would the discerning French appreciate the idea? Moreover, would her gastrothèque feel as a distinct in this setting—in some ways, its native one?
The response has been a resounding yes. In Paris, Buvette feels standalone, yet for different reasons. "What Parisians love is that we've dropped some of the formality," Williams says. "Where restaurants there are like, you don't eat after three o'clock, or ten o'clock, we say, come in to Buvette anytime you'd like and eat whatever you want."
Williams now attempts to spend several weeks in Paris every couple of months. Below, she shares her favorite spots in the city, with a focus on her newest place to call home: Pigalle.
________
Jody William's guide to Pigalle
Shop
Causses ( 55 rue Notre-Dame de Lorett) is just fantastic. They have everything: foie gras, cheese, smoked slat, green almonds and hazelnuts, fresh-squeezed orange juice, wonderful butters . . . I love it there.
I also love L'Objet Qui Parle (86 rue des Martyrs), which is nearby. It's an old vintage flea market store. In Buvette Paris, we have a collection of vintage latte bowls in blue, all mixed and matched.
Le BHV Marais (52 rue de Rivoli) is a big department store in the Marais, and I enjoy visiting the basement there, which is a hardware store. There you will find all the materials to fix your own shoes—leather, soles, hammers—[plus] beautiful blue enamel, tons of gorgeous stuff.
Stay
I actually cannot tell you my very favorite hotel because then everyone will know about it and it's my little secret! But the Hotel Armour (8 rue Navarini), I really enjoy, too—and it's just around the block from us. It's got great outdoor patio for aperitifs, and inside it's very modern and cool.
Eat & Drink
Oh, so many. In the neighborhood, we love going to Le Pantruche (3 rue Victor Massé) or Rose Bakery (46 rue des Martyrs) for lunch. La Fontaine de Mars (29 rue Saint-Dominique) is another spot, near the Eiffel tower—the owners also visit us at Buvette. For something more "old school," I like going to Chez Georges (11 rue des Canettes). Picture a big pot of terrine on the table with your pickle. I'll eat some Dover sole there.
If it's later at night, we'll go up to Montmarte to La Mascotte ( 52 rue des Abbesses). They do these great fruits de mer, so we'll get couple of bottles of Sancerre and some oysters and hang out. For drinks, we might head up the block to Glass (7 rue Frochot) or Dirty Dick (10 rue Frochot)—there are so many bars in Pigalle.
Photographs by Gentl + Hyers
Visit Andrea Gentl's wonderful blog Hungry Ghost